1939-1952
Landscapes
of Injustice
The Secondary
Teacher Resources
Landscapes of Injustice tells a story of the loss of home. It is about fear, racism, and measures taken in the name of security that made none safer. It is also about the resilience of Japanese Canadians confronting injustice.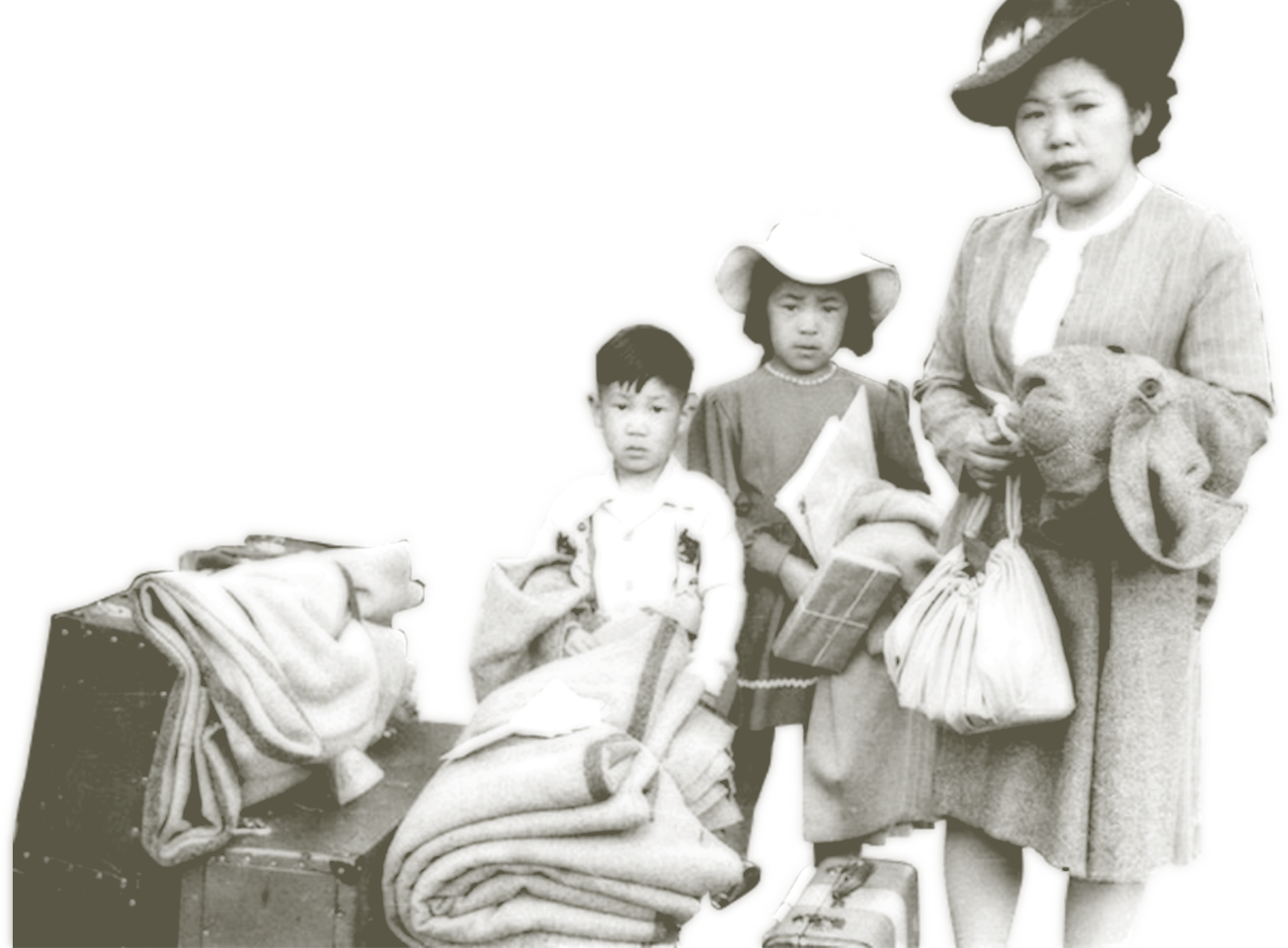 Scroll down
How to Use
This Resource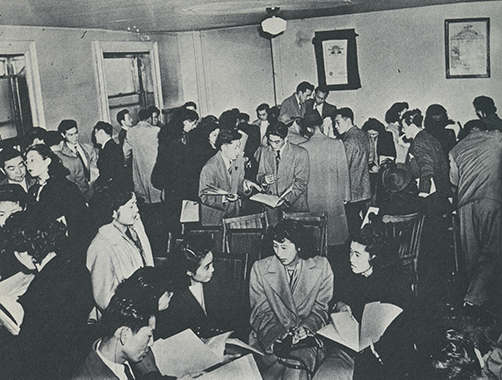 This resource was developed by teachers for teachers and can be used in a comprehensive "all-in-one" package or by accessing thematic, conceptual or inquiry-based entry points into the study of Japanese Canadian history. Teachers may use the lessons in full or in part as fits instructional time, curriculum needs, student ability, and assessment expectations. The lessons present the history of Japanese Canadians from the early years of migration and settlement in British Columbia through the interment era and conclude with the Redress movement and the legacies of dispossession.
Each lesson
Each lesson is grounded in a focus question, framed to provoke thought about the content presented within. All of the lesson activities are designed to build knowledge, enhance understanding, and develop thinking competencies. Each lesson begins with a compelling family story that frames and contextualizes the lesson while providing an engaging entry point for students. These are genuine stories, told about real Japanese Canadians and their families, some of which are examined in the lesson activities.
Each lesson is built upon a series of student activities with applicable handouts, and archival and secondary sources. Each lesson is self - contained and includes the supplemental material needed to meet the lesson objectives and address the focus question. Several activities incorporate Historical Thinking Competencies or Geographic Thinking Competencies. Overall there is an emphasis on developing critical and creative thinking
The website includes a resource library designed for student and teacher use. The resource library contains all of the source materials referenced in the lesson handouts , as well as supplemental resources to extend learning and enhance understanding. The resource library expands the scope and depth of the source material by including film footage, oral history clips, additional maps, added archival sources, and extra images. The materials are organized by lesson topic so that teachers and students may easily access the material to supplement a lesson, build independent inquiry projects, extend the kinds of primary sources used, or build depth of understanding.
Why Teach This History?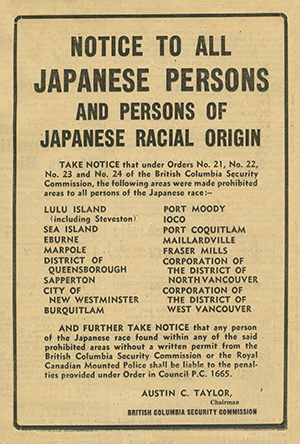 During the 1940s, Canada enacted the mass displacement and dispossession of people on racial grounds, a collective moral failure that remains only partially addressed. Japanese Canadians lost their homes, farms, and businesses as well as personal, family, and communal possessions. The uprooting, internment, dispossession, and forced relocation of Japanese Canadians is a black mark on the history of Canada, a nation and people that prides itself on its ethnic diversity, tolerance, and multicultural policies.
A study of Japanese Canadian history
A study of Japanese Canadian history raises many questions about human nature, racism, discrimination, social responsibility, and government accountability. Our democratic institutions are not infallible nor are they easily sustained. A society's willingness to confront the past provides a powerful gauge of democracy. Through the study of the dispossession, students will come to understand that civil liberties can only be protected in a society that is open and in a democracy where participation is expected.
The uprooting and dispossession of Japanese Canadians was not an accident or a mere coincidence of wartime decisions made under duress or necessity. Life - altering decisions were made with little regard to the guilt or innocence of the victims. The individuals who made these decisions were unable or unwilling to assess the issue without bias or prejudice. Many Canadians reacted with indifference and did little to oppose the government.
Students studying this unit will develop a broad understanding of the origins and ramifications of racist and discriminatory laws. We must be reminded regularly that human nature will only change through education and frank discussion of the most troubling issues. The development of human rights legislation and the enactment of the Canadian Charter of Rights and Freedoms, in and of themselves, are not sufficient barriers to acts of discrimination. A well-educated citizenry, living in an open and just society will provide the best measure of protection against the insidious nature of stereotyping and racism.
Project Overview
and Acknowledgement
These resources were funded, developed, and produced with the gracious support of the Landscapes of Injustice project, the Vancouver Japanese Language School, the National Association of Japanese Canadians, and the Nikkei National Museum and Cultural Centre. The teaching resources were developed over a five-year period embracing current and seminal research coming out of the Landscapes of Injustice research collective. This initiative included academic scholars, K- 12 educators, museum curators, and community participants from across Canada. Extensive field testing, review and revision was made possible through the significant contributions of K - 12 teachers Canada-wide. The project includes print and digital resources for both elementary- and secondary- aged students, with the target audiences at Grade 5 and Grade 10 for each respective resource.
Team behind the project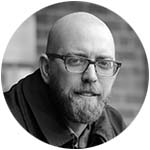 Jordan Stanger-Ross
Project Director
Jordan Stanger-Ross is the project director of Landscapes of Injustice and an associate professor of history at the University of Victoria. He is the editor of Landscapes of Injustice: A New Perspective on the Internment and Dispossession of Japanese Canadians (2020) and, with Pamela Sugiman, Witness to Loss: Race, Culpability, and Memory in the Dispossession of Japanese Canadians (2017). Jordan was not always a great student in high school, but he's reformed since and is committed to secondary education.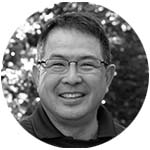 Michael Abe
Project Manager
Michael Abe is the project manager of Landscapes of Injustice. He is a Nikkei Sansei (third generation) and has been involved in the Japanese Canadian community in both Ontario and Victoria, maintaining close ties with Japan. He is past president of the Victoria Nikkei Cultural Society and served as the Victoria chapter rep for the National Association of Japanese Canadians. Mike coordinated the umbrella group Support Japan 2011 Gambare Nippon to raise funds for the earthquake and tsunami victims. He worked in the tourism industry for more than 20 years, marketing and promoting Victoria and British Columbia as a world-class tourist destination and holds a B.Sc. Biology degree from McMaster University.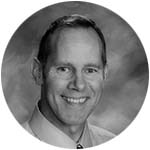 Michael Perry-Whittingham
Mike Perry-Whittingham is the teacher resources co-chair and secondary resources co-author of Landscapes of Injustice. Mike completed his BA in history at S.F.U., his B.Ed. at U.B.C., and his M.A. in curriculum studies at U.B.C. Mike is an experienced social studies and history educator. He brings more than 17 years classroom experience to the project, is co-author of multiple teaching resources, and has experience with curriculum implementation at school and district levels. Mike co-authored a previous resource on the internment of Japanese Canadians (Internment and Redress: The Japanese Canadian Experience) and has a passion for teaching topics with a social justice theme. Mike is currently a district administrator for the Richmond School District in Richmond, B.C.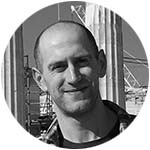 Jonathan Ballin
Jonathan Ballin is a member of the secondary school teacher resource team. He has been a secondary school social studies teacher in British Columbia for 11 years. Jonathan recently completed his M.A. in history at the University of Victoria. Since he was a child, Jonathan has been exposed to Japanese Canadian history from one of his neighbours who was interned as a child. His interest in this area of history was further fostered as a teen travelling with his family in the Kootenays; so he was excited when the opportunity came to work on Landscapes of Injustice.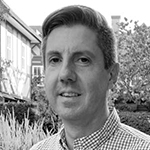 Patrick Anderson
Patrick Anderson has been a passionate student and teacher of history all of his life, both as a writer and an educator. In his 17 - year teaching career with Richmond and Vancouver school districts, Patrick has placed a focus on issues of social justice, taking a critical approach to teaching his students about issues in Canadian and local history. His interest in the subject of the Japanese Canadian internment began as a volunteer tour guide with the Vancouver Buddhist Church's annual Powell Street Festival, taking local groups through the hidden history and places of interest in East Vancouver's old Japanese Canadian neighbourhood.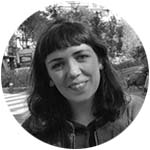 Kaitlin Findlay
Kaitlin Findlay is the research coordinator for Landscapes of Injustice. Her interest in Japanese Canadian history began when, on a summer road trip, she came across the Nikkei Internment Memorial Centre in New Denver. She completed her B.A. History (Honours) at McGill University and her M.A. thesis at the University of Victoria. In 2018, she received the Andy Farquharson Teaching Excellence Award for Graduate Students. Her MA research received an honourable mention for best MA thesis in Canadian Studies from the Canadian Studies Network. In fall 2020, she will begin a history Ph.D. at Cornell University.